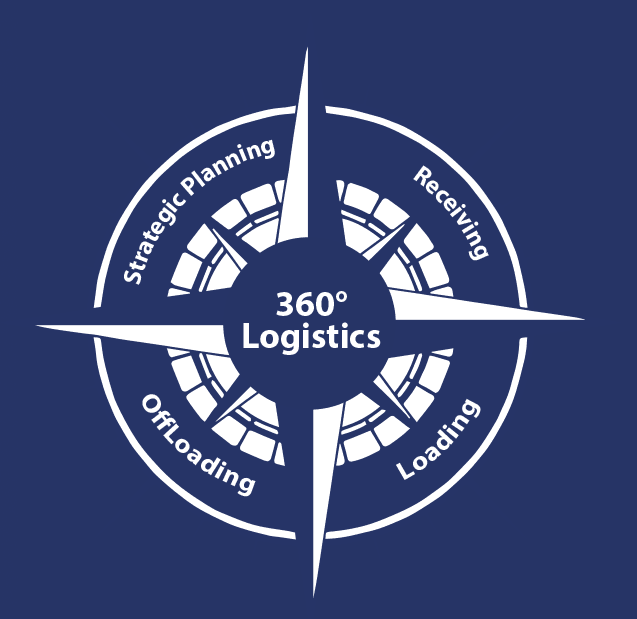 360° Logistics
Dry Dock Logistics (DDL) is devoted to conduct 360° logistics throughout every project by incorporating technology which gives up to the minute updates via an app designed and built by Dry Dock Logistics so that our customers can have live reports and a complete picture of each project throughout the globe.
Dry Dock Logistics is spearheading the industry in bringing technology to remote areas in order for the customer and DDL to have a common operating picture at all times.
DDL App Experience
With the amount of years of experience and over 496 dry docks completed all around the world, we inculcated all the knowledge and prior practices to build a one of a kind dry dock app in order to bring cutting edge technology to the dry dock world. It took two years of production and in 2017 the DDL app was introduced and has taken all the physical paperwork and waiting times for reports away.
Since the inception of the DDL app we have completed over 150 dry docks completely digital and have helped our customers cut down on cost dramatically due to the immediate feedback and up to the minute reports that this new technology is able to provide. The DDL app has proven to be an excellent tool for both the DDL team and the customers even through conducting six dry docks at the same time in different parts of the world.
Projects Completed with DDL app 2018-2023:
Regent Seven Seas Explorer: Victoria, Canada, 23 May 2023 to 30 May 2023, 8 days at dry dock, 89 TEUs
Carnival Cruise Lines Costa Venezia: Cadiz, Spain, 03 April to 23 May 2023, 51 days at wet and dry dock, 1121 TEUs
Carnival Cruise Lines Pride: Cadiz, Spain, 28 April 2023 to 25 May 2023, 28 days at dry dock, 1043 TEUs
Princess Cruises Sky: Rotterdam, Holland, 21 April 2023 to 03 May 2023, 13 days at dry dock, 181 TEUs
Princess Cruises Sapphire: Portland, OR, 14 April 2023 to 26 April 2023, 13 days at dry dock, 203 TEUs
Holland America Lines Koningsdam: Portland, OR, 29 March 2023 to 10 April 2023, 13 days at dry dock, 155 TEUs
Princess Cruises Enchanted: Palermo, Italy, 01 April 2023 to 11 April 2023, 11 days at dry dock, 187 TEUs
Royal Caribbean Cruise Lines Symphony of the Seas: Cadiz, Spain, 20 March 2023 to 18 April 2023, 30 days at dry dock, 169
Carnival UK Queen Elizabeth: Singapore, 18 March 2023 to 03 April 2023, 17 days at dry dock, 236 TEUs
Royal Caribbean Cruise Lines Mariner of the Seas: Cadiz, Spain, 27 February 2023 to 22 March 2023, 24 days at dry dock, 222 TEUs
Holland America Lines Eurodam: Freeport, Bahamas, 19 February 2023 to 03 March 2023, 13 days at dry dock, 369 TEUs
Carnival UK Ventura: Hamburg, Germany, 14 February 2023 to 26 February 2023, 13 days at dry dock, 281 TEUs
Carnival Cruise Lines Elation: Freeport, Bahamas, 23 January 2023 to 08 February 2023, 17 days at dry dock, 505 TEUs
Holland America Lines Westerdam: Singapore, 20 January 2023 to 02 February 2023, 14 days at dry dock, 237 TEUs
Holland America Lines Zuiderdam: Freeport, Bahamas, 02 December to 14 December 2022, 13 days at dry dock, 260 TEUs
Carnival Cruise Lines Miracle: Portland, US, 20 October to 13 November 2022, 25 days at dry dock, 219
Royal Caribbean Cruise Lines Celebrity Reflection: Marseille, France, 17 October to 30 October 2022, 14 days at dry dock, 160 TEUs
Oceana Cruises Riviera: Marseille, France, 06 November to 05 December 2022, 30 days at dry dock, 662 TEUs
Princess Cruises Emerald: Rotterdam, Holland, 12 October to 28 October 2022, 17 days at dry dock, 244 TEUs
Princess Cruises Crown: Portland, US, 04 October to 18 October 2022, 15 days at dry dock, 177 TEUs
Norwegian Cruise Lines Gem: Marseille, France, 16 November to 06 December 2022, 21 days at dry dock, 380 TEUs
Norwegian Cruise Lines Escape: Marseille, France, 13 September to 11 October 2022, 29 days at dry dock, 125 TEUs
Carnival Cruise Lines Luminosa: Palermo, Italy, 09 September to 24 September 2022, 16 days at dry dock, 285 TEUs
Carnival Cruise Lines Conquest: Cadiz, Spain, 14 September to 30 September 2022, 17 days at dry dock, 508 TEUs
Oceana Cruises Regatta: Vancouver, Canada, 19 August to 27 August 2022, 9 days at dry dock, 106 TEUs
Carnival UK Aurora: Hamburg, Germany, 12 June to 30 June 2022, 19 days at dry dock, 41 TEUs
Princess Cruises Grand: Portland, OR, 25 April to 11 May 2022, 17 days at dry dock, 230 TEUs
Carnival Cruise Lines Sunrise: Cadiz, Spain, 03 May to 16 May 2022, 14 days at dry dock, 239 TEUs
Seaborn Cruises Ovation: Marseille, France, 25 April to 07 May 2022, 13 days at dry dock, 66 TEUs
Princess Cruises Regal: Palermo, Italy, 25 April to 07 May 2022, 13 days at dry dock, 170 TEUs
Royal Caribbean Cruise Lines Rhapsody of the Seas: Brest, France, 14 April to 07 May 2022, 24 days at dry dock, 128 TEUs
Carnival UK Queen Victoria: Belfast, North Ireland, 11 April to 31 May 2022, 51 days at dry dock, 304 TEUs
Princess Cruises Caribbean: Portland, OR, 09 April to 26 April 2022, 18 days at dry dock, 184 TEUs
Holland America Lines Oosterdam: Palermo, Italy, 03 April to 16 April 2022, 14 days at dry dock, 182 TEUs
Seaborn Cruises Odyssey: Curaçao, 03 April to 16 April 2022, 14 days at dry dock, 88 TEUs
Holland America Lines Noordam: Freeport, Bahamas, 24 March to 27 April 2022, 35 days at dry dock, 170 TEUs
Carnival Cruise Lines Breeze: Cadiz, Spain, 01 April to, 18 April 2022, 18 days at dry dock, 235 TEUs
Norwegian Cruise Lines Jade: Marseille, France, 14 February to, 30 March 2022, 44 days at dry dock, 350 TEUs
Royal Caribbean Cruise Lines Serenade of the Seas: Freeport, Bahamas, 04 March to 11 April 2022, 39 days at dry dock, 153 TEUs
Carnival Cruise Lines Spirit (back to service): Freeport, Bahamas, 25 February to 04 March 2022, 7 days at dry dock, 68 TEUs
Holland America Lines Zaandam: Cadiz, Spain, 25 February to 04 March 2022, 37 days at dry dock, 382 TEUs
Carnival Cruise Lines Dream: Freeport, Bahamas, 23 February to 03 March 2022, 9 days at dry dock, 163 TEUs
Azmara Pacific Princess: Amsterdam, Holland, 14 February to 18 April 2022, 64 days at dry dock, 471 TEUs
Holland America Lines Volendam: Cadiz, Spain, 09 February to 24 February 2022, 16 days at dry dock, 182 TEUs
P&O Cruises Pacific Explorer: Palermo, Italy, 06 February to 20 February 2022, 15 days at dry dock, 76 TEUs
Carnival UK Arcadia: Brest, France, 04 February to 05 March 2022, 30 days at dry dock, 146 TEUs
Carnival Cruise Lines Glory: Freeport, Bahamas, 25 January to 04 February 2022, 11 days at dry dock, 250 TEUs
Princess Cruises Diamond Princess: Marseille, France, 19 January to 03 February 2022, 16 days at dry dock, 76 TEUs
Royal Caribbean Cruise Lines Celebrity Millenium: Freeport, Bahamas, 18 January to 31 January 2022, 14 days at dry dock, 75 TEUs
Norwegian Cruise Lines Sky: Brest, France, 06 January to 23 January 2022, 18 days at dry dock, 191 TEUs
Norwegian Cruise Lines Spirit: Singapore, 05 January to 15 January 2022, 11 days at dry dock, 58 TEUs
Royal Caribbean Cruise Lines Celebrity Summit: Freeport, Bahamas, 04 January to 16 January 2022, 13 days at dry dock, 80 TEUs
Princess Cruises Coral: Cadiz, Spain, 01 December 2021 to 21 January 2022, 52 days at dry dock, 129 TEUs
Carnival Cruise Lines Horizon: Palermo, Italy, 23 December 2021 to 07 January 2022, 16 days at dry dock, 45 TEUs
The Ritz-Carlton Yacht Collection Evrima: Santander, Spain, April 2021 to June 2022 2022, 400 days at dry dock, 711 TEUs
Norwegian Cruise Lines Jewel: Marseille, France, 06 October 2021 to 06 March 2022, 151 days at dry dock, 906 TEUs
Seaborn Cruises Encore: Marseille, France, 09 December to 19 December 2021, 11 days at dry dock, 49 TEUs
Oceana Cruises Insignia: Curaçao, 28 November to, 08 December 2021, 11 days at dry dock, 104 TEUs
Norwegian Cruise Lines Navigator: Genova, Italy, 12 November to 09 December 2021, 28 days at dry dock, 18 TEUs
Oceana Cruises Sirena: Genova, Italy, 01 November to 10 November 2021, 10 days at dry dock, 51 TEUs
Oceana Cruises Nautica: Genova, Italy, 19 October to 14 March 2021, 147 days at dry dock, 408 TEUs
Regent Seven Seas Mariner: Genova, Italy, 30 September to 24 November 2021, 56 days at dry dock, 63 TEUs
Norwegian Cruise Lines Pearl: Marseille, France, 18 October to 07 December 2021, 51 days at dry dock, 598 TEUs
Carnival Cruise Lines Spirit: Dubai, UAE, 10 October to 06 November 2021, 28 days at dry dock, 141 TEUs
Princess Cruises Ruby: Portland, OR, 05 October to 15 October 2021, 11 days at dry dock, 29 TEUs
Carnival Cruise Lines Paradise: Cadiz, Spain, 24 September to 26 October 2021, 32 days at dry dock, 309 TEUs
Carnival Cruise Lines Liberty: Cadiz, Spain, 14 September to 28 September 2021, 15 days at dry dock, 177 TEUs
Regent Seven Seas Voyager: Genova, Italy, 13 September to 02 October 2021, 20 days at dry dock, 30 TEUs
Norwegian Cruise Lines Pride of America: Portland, OR, 04 September to 02 October 2021, 28 days at dry dock, 103 TEUs
Carnival Cruise Lines Pride: Freeport, Bahamas, 26 August to 02 September 2021, 8 days at dry dock, 31 TEUs
Princess Cruises Island: Marseille, France, 18 August to 31 August 2021, 14 days at dry dock, 133 TEUs
Azmara Journey: Cadiz, Spain, 14 August to 26 September 2021, 44 days at dry dock, 182 TEUs
Azmara Pursuit: Cadiz, Spain, 12 August to 11 September 2021, 31 days at dry dock, 105 TEUs
Carnival Cruise Lines Sunshine: Cadiz, Spain, 28 October to 08 November 2021, 12 days at dry dock, 413 TEUs
Azmara Quest: Cadiz, Spain, 02 August to 13 August 2021, 12 days at dry dock, 60 TEUs
Carnival Cruise Lines Legen: Marseille, France, 31 July to 20 August 2021, 21 days at dry dock, 254 TEUs
Royal Caribbean Cruise Lines Celebrity Constellation: Cadiz, Spain, 19 July to 11 August 2021, 24 days at dry dock, 311 TEUs
Carnival Cruise Lines Valor: Marseille, France, 08 July to 28 July 2021, 21 days at dry dock, 184 TEUs
Carnival Cruise Lines Dream: Marseille, France, 25 June to 14 July 2021, 20 days at dry dock, 122 TEUs
Carnival Cruise Lines Glory: Marseille, France, 14 June to 05 July 2021, 22 days at dry dock, 66 TEUs
Silver Seas Silver Wind: Poland, 16 August to 15 October 2021, 61 days at dry dock, 321 TEUs
Norwegian Cruise Lines Down: Marseille, France, 02 June to 17 June 2021, 16 days at dry dock, 72 TEUs
Norwegian Cruise Lines Pride of America: Portland, Oregon, 04 June to 07 July 2021, 34 days at dry dock, 336 TEUs
Norwegian Cruise Lines Escape: Rotterdam, Holland, 02 May to 21 May 2021, 20 days at dry dock, 83 TEUs
Seaborn Cruises Sojourn: Genova, Italy, 23 April to 30 April 2021, 8 days at dry dock, 41 TEUs
Oceana Cruises Marina: Genova, Italy, 12 April to 25 May 2021, 44 days at dry dock, 174 TEUs
Carnival Cruise Lines Magic: Marseille, France, 04 May to 24 May 2021, 21 days at dry dock, 256 TEUs
Seaborn Cruises Quest: Genova, Italy, 12 April to 20 April 2021, 9 days at dry dock, 42 TEUs
Norwegian Cruise Lines Sun: Portland, Oregon, 11 April to 27 April 2021, 17 days at dry dock, 75 TEUs
Royal Caribbean Cruise Lines Harmony of the Seas: Cadiz, Spain, 31 March to 01 May 2021, 32 days at dry dock, 134 TEUs
Holland America Lines Oosterdam: Brest, France, 26 March to 04 April 2021, 10 days at dry dock, 41 TEUs
P&O Cruises Pacific Encounter: Singapore, 31 March to 14 April 2021, 15 days at dry dock, 159 TEUs
Holland America Lines Eurodam: Brest, France, 15 March to 22 March 2021, 8 days at dry dock, 23 TEUs
Royal Caribbean Cruise Lines Ovation of the Seas: Singapore, 04 March to 22 March 2021, 19 days at dry dock, 74 TEUs
Royal Caribbean Cruise Lines Celebrity Infinity: Cadiz, Spain, 17 February to 04 March 2021, 16 days at dry dock, 80 TEUs
Norwegian Cruise Lines Breakaway: Marseille, France, 12 November to 19 November 2020, 8 days at dry dock, 7 TEUs
Norwegian Cruise Line Gem: Boston, Massachusetts, 9 November 2020 to 18 November 2020, 9 days at dry dock, 57 TEUs
Norwegian Cruise Lines Epic: Marseille, France, 06 November to 30 November 2020, 25 days at dry dock, 225 TEUs
Carnival Cruise Lines Imagination: Freeport, Bahamas, 10 August to 20 August 2020, 11 days at dry dock, 184 TEUs
Carnival Cruise Lines Fascination: Cadiz, Spain, 31 July to 31 August 2020, 32 days at dry dock, 193 TEUs
Regent Seven Seas Navigator: Genova, Italy, 20 June to 18 July 2020, 20 days at dry dock, 9 TEUs
Oceana Cruises Nautica: Genova, Italy, 09 June to 21 June 2020, 13 days at dry dock, 93 TEUs
Norwegian Cruise Lines Star: Rotterdam, Holland 2020 20 May to 30 May 2020, 11 days at dry dock, 9 TEUs
Princess Cruises Sapphire: Singapore, 03 April to 16 April 2020, 14 days at dry dock, 245 TEUs
Carnival Cruise Lines Victory: Cadiz, Spain, March 2020 to October 2021, 600 days at dry dock, 3178 TEUs
Royal Caribbean Cruise Lines Explorer of the Seas: Brest, France, 24 March to 07 May 2020, 45 days at dry dock, 22 TEUs
Princess Cruises Majestic Princess: Tuas, Singapore, 03 March to 12 March 2020, 10 days at dry dock, 220 TEUs
Carnival Cruise Line Elation: Freeport, Bahamas, 04 March to 21 March 2020, 18 days at dry dock, 746 TEUs
Carnival Cruise Lines Miracle: Freeport, Bahamas, 15 February to 04 March 2020, 18 days at dry dock, 753 TEUs
P&O Cruises Pacific Explorer: Singapore 2020 12 February to 10 March 2020, 27 days at dry dock, 287 TEUs
Princess Cruises Regal: Freeport, Bahamas 2020 13 January to 17 January 2020, 5 days at dry dock, 112 TEUs
Carnival Cruise Lines Sensation: Freeport, Bahamas 2020 07 January to 26 January 2020, 20 days at dry dock, 560 TEUs
Holland America Lines Westerdam: Singapore 2020 05 January to 16 January 2020, 12 days at dry dock, 324 TEUs
Norwegian Cruise Lines Spirit: Marseille, France 2020 03 January to 07 February 2020, 38 days at dry dock, 2216 TEUs
Holland America Lines Zuiderdam: Freeport, Bahamas, 01 December to 11 December 2019, 11 days at dry dock, 259 TEUs
Silver Seas Shadow: Malta, 04 November to 19 November 2019, 16 days at dry dock, 369 TEUs
Carnival Cruise Lines Splendor: Singapore, 31 October to 30 November 2019, 31 days at dry dock, 935 TEUs
Regent Seven Seas Explorer: Marseille, France, 30 October to 10 November 2019, 12 days at dry dock, 169 TEUs
Carnival Cruise Lines Imagination: Portland, Oregon, 23 October to 30 October 2019, 8 days at dry dock, 342 TEUs
Holland America Lines Volendam: Freeport, Bahamas, 19 October to 01 November 2019, 14 days at dry dock, 329 TEUs
Oceana Cruises Nautica: Marseille, France, 15 October to 18 October 2019, 4 days at dry dock, 9 TEUs
Carnival UK Britannia: Brest, France, 09 October to 21 October 2019, 13 days at dry dock, 274 TEUs
Carnival Cruise Lines Ecstasy: Freeport, Bahamas, 07 October to 17 October 2019, 11 days at dry dock, 378 TEUs
Holland America Lines Noordam: Victoria, Canada, 30 September to 25 October 2019, 26 days at dry dock, 560 TEUs
Oceana Cruises Regatta: Vancouver, Canada, 07 September to 24 September 2019, 18 days at dry dock, 541 TEUs
Royal Caribbean Cruise Lines Voyager of the Seas: Singapore, 30 August to 05 October 2019, 37 days at dry dock, 1405 TEUs
Caribbean Princess: Freeport, Bahamas, 13 April to 13 May 2019, 31 days at dry dock, 331 TEUs
Carnival Triumph/Sunrise: Cadiz, Spain, 13 March to 15 April 2019, 33 days at dry dock, 1634 TEUs
Oceania Rivera: Marseille, France, 16 April to 26 April 2019, 11 days at dry dock, 167 TEUs
Norwegian Joy: Singapore & Seattle, WA, USA, 11 March to 26 April 2019, 34 days at dry dock, 1026 TEUs
Holland America Veendam: Freeport, Bahamas, 5 April to 14 April 2019, 9 days at dry dock, 140 TEUs
Emerald Princess: Victoria B.C, Canada, 29 March to 14 April 2019, 17 days at dry dock, 329 TEUs
Carnival Aurora: Brest, France, 23 March to 8 April 2019, 17 days at dry dock, 249 TEUs
Grand Princess: Portland, OR, USA, 3 March to 20 March 2019, 18 days at dry dock, 210 TEUs
Carnival Freedom: Freeport, Bahamas, 13 February to 9 March 2019, 25 days at dry dock, 492 TEUs
Carnival Pride: Freeport, Bahamas, 3 February to 17 February 2019, 15 days at dry dock, 359 TEUs
Norwegian Sky: Freeport, Bahamas, 21 January to 8 February 2019, 19 days at dry dock, 664 TEUs
Diamond Princess: Singapore, 19 January to 2 February 2019, 15 days at dry dock, 265 TEUs
Royal Caribbean Celebrity Millenium: Singapore, 5 January to 9 February 2019, 36 days at dry dock
Coral Princess: Freeport, Bahamas, 21 January to 31 January 2019, 11 days at dry dock, 269 TEUs
Carnival Fantasy: Freeport, Bahamas, 7 January to 21 January 2019, 15 days at dry dock, 258 TEUs
Holland America Prinsendam: Freeport, Bahamas, 7 December to 15 December 2018, 9 days at dry
Carnival Inspiration: Portland, OR, USA, 15 days at dry dock, 224 TEUs
Norwegian Jewel: Singapore, 22 October to 5 November 2018, 15 days at dry dock, 496 TEUs
Carnival Sunshine: Freeport, Bahamas, 7 October to 21 October 2018, 15 days at dry dock, 317 TEUs
Ruby Princess: Victoria B.C, Canada, 29 September to 13 October 2018, 15 days at dry dock, 213 TEUs
Holland America Massdam: Freeport, Bahamas, 31 August to 10 September 2018, 11 days at dry dock, 94 TEUs
P&O Pacific Aria: Sembawang, Singapore, 3 August to 15 August 2018, 17 days at dry dock, 79 TEUs
Sun Princess: Sembawang, Singapore, 20 June to 4 July 2018, 15 days at dry dock, 182 TEUs
Carnival Spirit: Sembawang, Singapore, 22 May to 6 June 2018, 16 days at dry dock, 260 TEUs